Welcome to Trends2015!
The San Jose office of Colliers International will be releasing its 2014-2015 Silicon Valley Market Report & Forecast on February 9, 2015. We are inviting select clients and other industry professionals to attend this event as our guests. In addition to our 2014 Silicon Valley recap and 2015 forecast, provided by Colliers International Managing Partner, Jeff S. Fredericks, we have three outstanding keynote speakers lined up for Trends2015.
Presentation:
Part 1 - Jeff Fredericks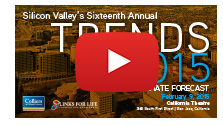 Part 2 - Speakers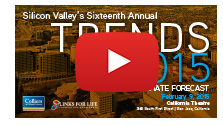 Part 3 - Gregory Valliere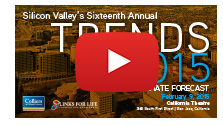 Slideshow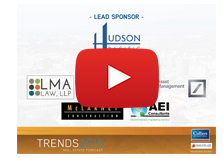 Market Report & Forecast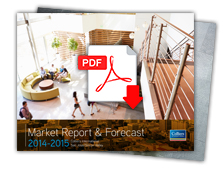 Press Release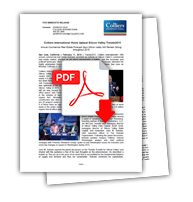 COLLIERS INTERNATIONAL
SIXTEENTH ANNUAL
REAL ESTATE TRENDS2015 - SILICON VALLEY
Monday, February 9, 2015
2:30pm to 4:30pm
California Theatre
345 South First Street
San Jose, CA 95113
Cocktail & Hors d'ouerve Reception:
4:30pm to 6:00pm
Featured Speakers:
"Big Changes in Washington in 2015 - From Congress and the Federal Reserve"
Gregory Valliere
Chief Political Strategist
Potomac Research Group
"Bubble Trouble for Silicon Valley?"
A roundtable discussion moderated by:
John M. Sobrato
Chief Executive Officer
The Sobrato Organization
Panelists:
Christopher Thornberg
Founding Partner
Beacon Economics, LLC
Jim McLean
Founder and Managing Director
Silicon Valley Data Capital
Kevin Scott
Managing Director
Silicon Valley Bank Capital
R.S.V.P.
Andrea Rodriguez
408-282-3884

email: andrea.rodriguez@colliers.com